Kiev Vozdvizhenka

It may take you a while before you discover the most intriguing part of Kiev. This one some refer to as the "Oligarch's Ghost Town".
Located north of Saint Sophia's Cathedral, the hidden district of Vozdvizhenka ('Vuz-dvee-djenka') is missed by most of travelers coming to the city.
What is special about the tiny assmbly of cobblestone lanes that is hardly ever mentioned in regular guide books?
Reasons why Vozdvizhenka sets itself off from Kiev's more established sites come in abundance. And the "Oligarch's Ghost Town," as it has been labeled by London-based Guardian, mostly sets itself off through good, not through bad.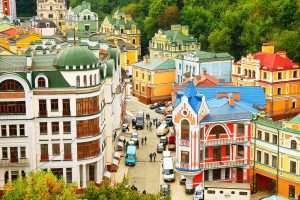 To begin with, the complete neighborhood is surrounded by picturesque  green hills.
Walking down one of the lanes and turning your head into any direction will have you face the unusual, yet peasing contrast of the candy wrapper-colored facades to the rich green of the hills.
A Real-Life Miniature Wonderland
The carefully plastered facades come in all colors of a paste-heavy rainbow. It is the neverending color scales of the facades that bring up a first ambiguity about the small neighborhood.
While the coloful buildings make up for the essence of the tiny district, they are also responsible for a special feeling that overcomes anyone who sets foot into the color-wonderland of Vozdvizhenka: wandering around the often deserted streets one firstsoaks up the area's Alice in Wonderland-like atmosphere. Yet after passing the first dozen of candy wrapper buildings one soon enough cannot help but think that the small district as a whole is one big resemblence of what is commonly known as Kitsch.
What is Kitsch? Kitsch becomes Kitsch by attributing authenticity and value to where there in fact is no value at all. And that just happens to be the case with Vozdvizhenka. Locals are well aware that here streets are empty. Many of the mansions stand empty, struggling as much with badly laid water pipes that break in winter's cold as well as with finding a buyer for the heavily overpriced estates.
Even capturing the average cobblestone lane on picture gives off the impression as if Vozdvishenka was rather part of a miniature-wonderland instead being an actual residential area. Nonetheless – or rahter: right because of that – the small area that lies in between the city center and the sbohéme district of Podil comes with a charme of its own that will draw you in. Nonetheless, even if it comes close to a resemblance Kiev is not Paris. Even during rush hour does Vozdvizhenka seem almost deserted, the amount of cafés scattered into the tiny streets only comes down to a handful.
The average first time visitor to the neighborhood is likely to think that the majority of the buildings stem of what would be a Ukrainian equivalent to the Wilhelminian era of architecture, and that had recently seen a full refurbishment. In fact, nothing could be farther from the truth.
A Busted Real Estate Bubble Led To Empty Mansions
Even though they show little interest in Vozdvishenka many Kievans are well aware of the place and it unusal history. "None of these buildings is more than 10 years years old", says Yekatarina Symchuk, a 24-year old student of architecture at Kiev's Polytechnical Institute. "They were built after architecural plans that stem from the late 19th century, and that is why the look the way they look. But they are all in fact newly constructed buildings", Yekatarina explains. The economic reason why Kiev has such a special neighbourhood full of mock 19th century mansions is found in a real estate bubble that busted in 2008.
What was planned to be a playground for millionaires is now a surreal congregation of luxurious mansions  – that are basically all empty and uninhabitated. The UK's Daily Mail thus rightfully refered to calls Kiev Vozdvizhenka the "oligarch's gost town". And indeed, walking around Vozdvizhenka gives a special feeling that is hard to re-experience elsewhere.
Does that make Vozdvizhenka less of an experience for the urban explorer? In no way. Vozdvizhenka lives off its over-the-top luxury, its empty streets and inhabited houses. The deserted streets make up for the special atmosphere that stands anywhere in between a pavilion in Disney's Epcot Center — and Alice in Wonderland.
Kiev Vozdvizhenka? Highly recommended.
Aerial View On Vozdvizhenka