World Traveler Gunnar Garfors: The Interview
Meet the youngest man to ever travel all 198 countries on the planet. Norwegian world traveler Gunnar Garfors talks Belarus, nightlife around the world and why he always travels with a suit jacket.
If you thought you were well-traveled then you haven't met Gunnar Garfors. The 37-year-old radio journalist from Oslo proudly holds the title of the youngest man on earth to have traveled all countries on the planet. While working full-time, mind you.
No typo here, Gunnar Garfors has traveled to every single country on this earth. And because he also set foot in the four countries not recognized by the UN oberserver states of Palestine and Vatican, as well as those countries recogniozed by only 20 member states of the UN (Kosovo, Taiwan and Western-Sahara), Gunnar has been to a total of one-hundred-and-eighty-nine nations.
198 countries? Sounds impressive. But was he really there? Frequent travelers will know that racking up numbers can be very easy. That 2-hour layover in Bangkok while you were traveling to Japan? Congratulations, you have just been to Thailand.
And driving through Germany and Switzerland while you are heading South to Italy? – A no-brainer, two more countries to add to your list.
"No, I do not count transit stops in airports. I don't count driving through a country by car or train, either," Garfors says when asked about his approach to numbers. "I must have had my feet on the ground. I must have done something there and have a story to tell". In that sense, the number of 198 is real.
Another thing worth noting is that Gunnar is an amateur traveler. Meaning that he has been to every country for fun, and not related to business. Neither have his travels been funded, sponsored or subsidized by corporations or by government. He has still visited  over 20 countries twice, this time in regard tobusinessas he also is a much sought-afterspeaker at conferences.
As a world traveler, however, Gunnar planned and paid for everything on his own account. Not only that, but he mostly traveled on his own account as well, meaning he
travels by himself.
What advice could Gunnar Garfors give to the aspiring travel aficionado? How much could one learn from the one man who has 'been there, done that' literally anywhere in the world?
Answer: A whole darn lot.
With his immeasurable experience, his sharp wit and his relentless memory, Gunnar is a never-ending spring for travel advice on any destination. Outspoken and open, Gunnar will promptly share his vast experience with anyone interested in traveling.
In our interview we spoke to Gunnar about traveling to dictatorships, the concept of nightlife outside of the Western world and, yes, the country with the most attractive women on the planet.
Gunnar's point of departure for traveling 198 countries: Norway's Idyllic capital of 600.000 people, Oslo | Photo: Gunnar Garfors
WORLD TRAVELER GUNNAR GARFORS: THE INTERVIEW
Q | Let's start off with packing and preparing:
How do you set yourself up before you travel?
What are some of the things you never go without?
There are only two things, and the first one is hand-luggage: I travel with hand-luggage exclusively. Mostly, this would be a backpack while I stow away everything else in shorts with a lot of pockets.
The other thing I never travel without is a suit jacket. Apart from that I leave everything at home. I am blessed to make a living in one of the strongest currencies in the world so I am basically "rich" anywhere I go. Whatever I need while traveling I simply buy abroad. This makes for great souvenirs, too.
Q | You mentioned a suit jacket. It seems like traveling with a suit jacket seems to be one of your trademarks.
What's the idea behind traveling with a backpack
—

and then wearing a suit jacket?
Let me just say that it's a suit jacket only – not a full suit. Over time I have learned that wearing a suit jacket brings a ton of upsides. I get better service almost anywhere I go, in stores, at airports, when I check in to a hotel.
Sometimes it happens even when talking to people in the street! Often times locals are intrigued by a "well-dressed" foreigner so the jacket can really open doors. Simply wearing a suit jacket instead of a T-shirt can get you invited for a wedding. Without the suit jacket I might be just another scruffy-looking backpacker.
Obviously, I am not wearing a jacket where it is too hot for that. This would only make me look like a fool. But apart from that the jacket raises your status and makes you stand out for the better. Let's say, if I stood around with a backpack, looking up in the air, there might be one or two people also looking up in the air. If I'd be standing there with a suit jacket on, it might just be 20 people (laughs).
Q | In most of your interviews you are asked the same questions over and over again:
What is your favorite country?

What is your least favorite country?

What are the hardest countries to get into?
I will break the cycle and try a totally different approach.
How about I just name two  countries and then you tell me the first thing that comes to mind?
Q | Kind of like in psychoanalysis, free association. Ready? Here goes:
Belarus.
Dictator! (laughs). No, I really mean that. Belarus is Europe's last dictatorship and it shows if you travel there.
Let me give you an example of what I mean. One thing I enjoy while I travel is doing a handstand at all kinds of locations.
Now, Minsk is a crazy city and there is this massive yellow KGB building right in the city center. So what I would do is have my friend take a picture while I went up the doorsteps and made a handstand right in front of their door — within a minute or so we were chased away by the agents working at the place! Later, locals would tell us we were lucky we weren't arrested. They put it like this:
What you see out front is not everything. There is a massive basement to that yellow building and we have no idea what is going on inside of it
Not un-ballsy: Gunnar Gafors in handstand on the doorstep of the Belorussian Secret Service | Photo: Øystein Garfors
…And they have a point. In Belarus, dictator Lukashenko is lurking on every corner. Quite literally, as the country has a personality cult about him. His picture is everywhere.
Q |

You just said that Minsk was 'crazy' – What do you mean?
First of all, you have a city that is post-socialist, but not really. 'Real' socialism might be gone, but the big brother state is still there! Then there are the broad city streets, the socialist architecture and so on – for a foreigner Minsk is a surreal experience.
Belarus really is Europe's last dictatorship, but it is also a fun country to visit. Especially for single men. Single guys should by all means travel to Belarus. The country has a 40 to 60 ratio of men to women. Women are not only super attractive, but also friendly and eager to talk to men. The whole country suffers from a shortage of men, the girls somehow "settle for less". I remember so many 40+ and 50+ local guys walking around with 24, 25-year-old stunners as their girlfriends. Nowhere else have I seen anything like that.
Q |

That is actually very common in Eastern Europe, they call it "sponsorship": Older men trade in jewelry, the latest iPhone or a vacation for some long-term, well, "friendship".
It is like their version of the girlfriend experience.
Well, that makes sense. In Minsk there were tons of 24/7 jewelry stores right outside the center. Obviously, elderly men buying jewelry for younger women must have been something like a national pastime. Sometimes, even the nightclubs had built-in jewelry stores!
And then you could see these 'unusual' couples going there at any time of the day. The guy would just say: "Pick whatever you want, honey" – surreal!
Biathlete and Olympic winner Darya Domracheva spends an afternoon in Minsk while talking about her childhood and biathlon.
Single guys should by all means travel to Belarus
Q | Let's move on to our second country:
Monaco.
Snobbishness. Monaco is basically money congregated in one place. And too much of it. If you walk along the tiny principality's harbor you will see yachts so big, they cannot even tow in the harbor. They are anchored a good distance away from the mainland. That is because some of the yachts have a Rolls Royce – or two – parked on their deck, and the huge crane to bring the car ashore wouldn't let them fit into the harbor.
In Monaco, even my suit jacket would not help. I remember walking along the harbor when a massive bouncer with logs as arms would first ask me what I was doing there. We went a few words back and forth until he finally asked me to "kindly move away". And the guy wasn't even on the pier, he spotted me from the boat he was on! All in all, it was a polite way of telling me to fuck off. To him it must have been so obvious that I do not live there, not even work there.
Something similar happened when we wanted to enter the casino: although dressed in a full-suit this time, we were denied entry. I take it that a tuxedo was needed here or, more likely, that we were face controlled as not being part of the in-crowd.
Monaco is a playground for the rich, the super-rich. You may be tolerated there as a daytime tourist, but that will be about it.
Q | One thing you cover in detail in your new book is nightlife.
Now, anyone who has traveled outside Western Europe will know that nightlife is no real concept in a lot of countries. This starts already in Eastern Europe where there is no "bar scene", and where going to nightclubs can still be stigmatized, especially for women.
Is the idea of nightlife a Western invention?
You might be very right here. Outside of the Western world nightlife is concentrated in the bar of the local top hotel. Once you leave that bar, nightlife options as we know them can quickly drop to zero.
In Asia, our idea of nightlife takes place more in the restaurants. And then there are the Karaoke bars, of course. In Massawa; Eritrea, almost everything would take place on the beach. There would a be a bon-fire right on the beach. In town, the 'bars' are more often than not makeshift-shacks that you would never recognize as bars unless you were told about it.
The way we look at nightlife in the West also is class-thing: you dress in this and that way to get into this and that nightclub. Anywhere else, it is much less formal, there is no 'set of rules'. No nice clothing, no make-up. People would just enjoy themselves.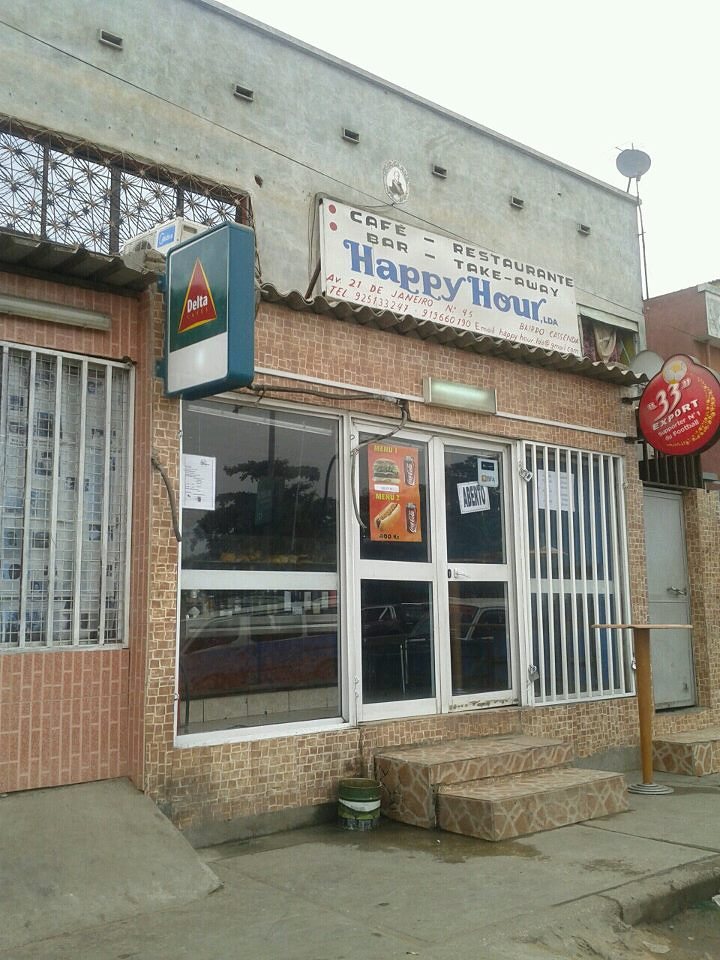 Western nightlife options abroad: This is what the bar scene in Angola looks like. "Real nightlife takes place elsewhere, the beach is often the place to go," says Gunnar Gafors. | Photo: G. Garfors
Q | Here comes an interesting question: From someone who has literally 'seen it all', which country has the officially best looking women in the world?
Without a doubt, that would be Turkmenistan.
Turkmen girls in their traditional attire | Photo: Pinterest.com
I never saw that coming myself! In Turkmenistan's capital , I remember very vividly entering a random bar together with a friend. What we faced in that venue was a never-ending line of local girls, all stunningly good looking. They were dressed in their traditional outfit that would even enhance their natural attractiveness.
Hungover as we were, all we had in mind was getting something to eat. But with all those girls around it was too overwhelming for us. We simply left the bar and went to the local market instead. But even here it was the same situation: stunning looking girls all over the place! The market even had some stores and booths that were located halfway underneath the surface of the earth. So we went there. But even below the ground it was the same. For men, getting away from attractive females is something that usually happens faster than they would like it – but this time it was as if we were followed by them.
I think it's in the Norwegian version of my book 198: How I Ran Out of Countries where give a list of the top 15 countries in regard to good looking girls. So it's not only Turkmenistan, but a whole range of countries. The former Soviet Union, Brazil and, much to my surprise, Israel play in the top league. The only downside with Israeli girls is that they often carry machine guns: in Israel women serve in the army, too. So the guns hanging over their shoulders can make it a bit harder to chat them up (laughs).
In total it would be a selection of about 10 countries competing for the title of having the most attractive females.
Q | As a European, what country gave you the most 'natural' attention from females? By natural I mean getting attention without putting in much effort. You just spoke about Belarus – what is it like elsewhere?
As a European you have a pretty good standing with women everywhere in the world
As a European you have pretty good standing with women everywhere in the world. In my case, it did not have so much to do with my "good looks", but more with the fact what my looks is 'white'. In other parts of the world this will suffice to have me associated with wealth and an advanced lifestyle.
This being said, I would often get attention for the wrong reasons. For example, many of my fellow countrymen who have problems meeting women go to countries like Thailand or the Philippines. So when I went there I would see all these surreal pairings of 40, 50 and even 60-year-old men together with 20-something local girls.
The strange thing was that I would not get any attention whatsoever! In theory I was supposed to get all the attention. I mean, I was the "young" and "interesting" foreigner with full hair and a flat stomach. But I lost against competition that was 30 years older than me. Sometimes it happened even with the same girl: She would look at me, but when a balding Western man with obvious weight problems walked by, her eyes lit up.
The reason behind that? I was neither neither looking for a wife, nor was I giving out the vibe of the "settled older man". I simply wasn't old enough. Either that, or my belly was just not fat enough (laughs).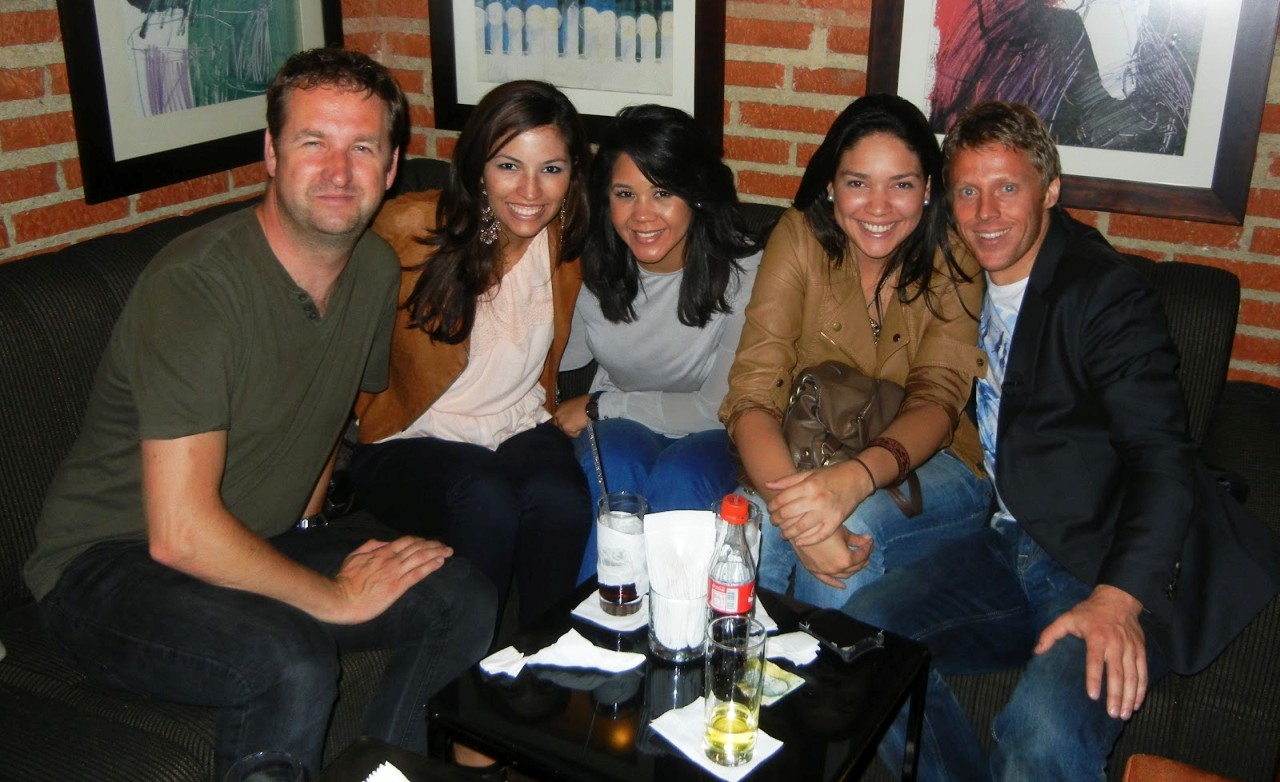 No fat belly, but a suit jacket plus definite attention: Garfors and friends in Caracas, Venezuela | Photo: G. Garfors
Q | Speaking about wealth, you are from Norway that has one of the highest per capita GDP in the world.
With the exchange rate of the Kroner and a Norwegian passport – hasn't traveling all countries been all too easy for you?
Yes and no. Of course, with a currency like ours no matter where I go – it is going to be cheap. And that isn't even everything. Here in
Norway we are guaranteed five weeks of paid vacation each year. Add to that another 2 weeks in National holidays and we are at 1,5 months of paid leave per year. All that definitely helps with traveling.
But then again, I am all the way up North! You have to keep in mind that I still have a full-time job. So as I travel during my holidays Norway remains the point of departure for my travels. And even today, many airlines don't even serve our airports. Until recently, we did not even have a direct flight to the US. Flying for me usually means multi-stop itineraries, paying higher prices and losing lots of time due to lay-overs. So there are both pros and cons to being from Norway.
Q | Lastly, for anyone who is intrigued by now and wants to do the same as you: what is the right mindset to successfully travel all countries of the world?
How do you get it done?
The most important thing is having a goal. The majority of people already have their own goal in mind when they travel – and most of the time it's not about traveling to all 198 countries of the world.
But as long as you have a goal, it will be so much easier to stay determined. If you stick to your goal, it will be easier to deal with the inevitable setbacks and to make sacrifices.
And there will be sacrifices: for me, I don't have any expensive art to place in my apartment, a car parked outside or a huge music collection. I also couldn't take out girlfriends to dinners as much as I would like.
Being determined about traveling means taking every day off that you can, and spending every dollar that you have.
Being determined about traveling means taking every day off that you can and spending every dollar that you have. Traveling to me is a like a virus that you don't want to have cured.
What you get in return will be mind-altering experiences. You see, all the people who invite you to see their farm and to attend their wedding are just as eager to travel as you. Only you are traveling and they are not. Which proves how lucky we are to actually be able to travel in the first place. If that doesn't make you think twice and act as an eye opener to that Western European bubble we live, then I don't know what does.
Gunnar Garfors
37-year old Gunnar Garfors started traveling in 2010 when he went to Tanzania.
In the following 12 years Gunnar managed to travel to every single country on earth, completing all countries in 2013. With now 198 countries under his belt, he is the youngest non-professional traveler to achieve that goal.
Simultaneously to traveling the world Gunnar works full-time as a radio journalist in Norway's capital Oslo.
---
More on Gunnar: