Traveling is a fun and adventurous way to see the world. And when you eventually take the time out, from your bland day-to-day tasks, to visit some destination places, it is sure to make your life even more colorful.
One of the places in the world where one is sure to have a mind-blowing travel experience is Madrid, Spain. Applauded for its amazing scenery and top-notch tourist attraction, Spain's capital city is a must-see for lovers of adventure and exotic places. Visiting any place for the first time can be quite overwhelming, but even more so when traveling to a city so vibrant, colorful, and rich in culture like Madrid.
However, with a few tips, you'll be good to go! Plus, you'll be able to plan your trip and highlight places to visit so that you won't miss out on the juicy stuff.
So, if you're planning a Spain trip, here are a few travel tips to help you make the most of your trip to Spain's beautiful capital city.
# 1. Accommodation
It is essential to figure out where to stay during your time in Madrid as this could determine whether or not you'd enjoy your tourist experience. When it comes to a perfect dig, the rule of thumb is comfort and ease of location.
Therefore, tourists are best advised to stick to areas that aren't entirely in the center but aren't too far away from the hub. This is to cut down on distractions and to ensure much better access to specific areas of interest. Not to mention saving you a few bucks.
Locations near Plaza Mayor or Puerto Del Sol are within walking distance of most attractions and also have metro subway stations near.
# 2. Ticket Bookings
Madrid is notable for its 5-star museums and gallery. As a result, there are lots of visitors wanting to have a look. So it is only fair – to you- that you book a ticket for your museum visit before the day of your trip. It will help you to bypass the long line of waiting tourists as it can be quite hectic trying to get a ticket right on the spot.
Most especially when trying to visit the highly sort-after museums like the Museo Nacional Del Prado and Museo Nacional Centro de Art Reina Sofia, time-efficiency is of utmost importance. That is why you should skip the endless line of waiting visitors and book an online ticket to have a smooth visiting experience. Online booking is easy, and it comes with a flexible cancellation policy.
The Prado has free admission from 6pm to 8pm so if you arrive late in the day, this is a good option to get acquainted with the museum before coming back for more the next day.
You may be lucky enough to see the Madrid Mechanical Musical Clock that chimes on a building near the Prado.
#3. Use the Metro to get around
As much as it's very convenient to call a cab, during your stay in Madrid, try as much as you can to get over the temptation. Madrid is well known for its amazing Metro system. The Metro is an impressive transportation system with excellent facilities and nice transit experience.
Going to the museum? Visiting the Royal Palace? Or going shopping? Hop on the train with your travel card. It's been said that one can only get to know a place better through close interaction with the people. And what better way to socialize than to commute with The Spanish. That and the endless sight-seeing from the comfort of your window seat.
# 4. Visit historical places
Every place has its fair share of history, and Madrid isn't left out. An impressive number of historical sites are embedded within the heart of the city like the Plaza Mayor and the Puerta del Sol.
Going by history, Plaza Mayor has been a hub to a variety of activities in the center of old Madrid. From the marketplace to bullfights, executions, and traditional ceremonies, this Plaza is one of the first places to go when visiting this spectacular Spain's capital. It features beautiful restaurants, serene atmosphere, and a historical ambiance.
Or you could just do a drop-by at the iconic Plaza de Cibeles that features magnificent sculptures and Madrid's long-serving historical fountain.
Talking about historical monuments, another place worth mentioning is the beautiful Temple of Debod. Located in downtown Madrid, this ancient Egyptian temple is a treasure hunt and well off the beaten path for teeming tourists. Once you are inside, you get a feel of ancient times from another continent right in the fascinating Spanish capital!
# 5. Explore Spanish dishes
The second most visited country in the world is highly noted for its vast assortment of culinary delight. With Madrid as your destination, you're sure to never go out of options as there is something here for everyone. Take a food trip, try a new food cafe or grab street foods on-the-go.
Do well to indulge your cravings as you experience the different mouth-watering dishes Spain has to offer. However, aside from complimentary meals, do not buy food from your hotel as they are overpriced and ridiculously bland. It's the opposite case at Plaza restaurants and Taco cafes.
# 6. Glasses up
If you're a great wine lover, try out different varieties of wines from local drink stores in Madrid. Spain produces impeccable wines that are second to none in the world, and this may be your one chance at testing that myth.
However, we're most definitely sure you would not end up disappointed. Ribero Del Duero and many bars offer an affordable substitute to Rioja, while some ardent wine lovers would hardly be able to tell the difference.
#7. Natural park
Parque El Retiro is just the place to see. You get to breathe fresh air and enjoy perfect ambiance -just about what you need after a day of touring the area. It features beautiful flowers and plants.
Oh, and you wouldn't want to miss the awe-inspiring architecture of the Crystal Palace. Fully covered in glass and Iron casts and sitting pretty in the middle of a great landscape, this incredible piece would make your visit to fascinating places in Spain worth your while.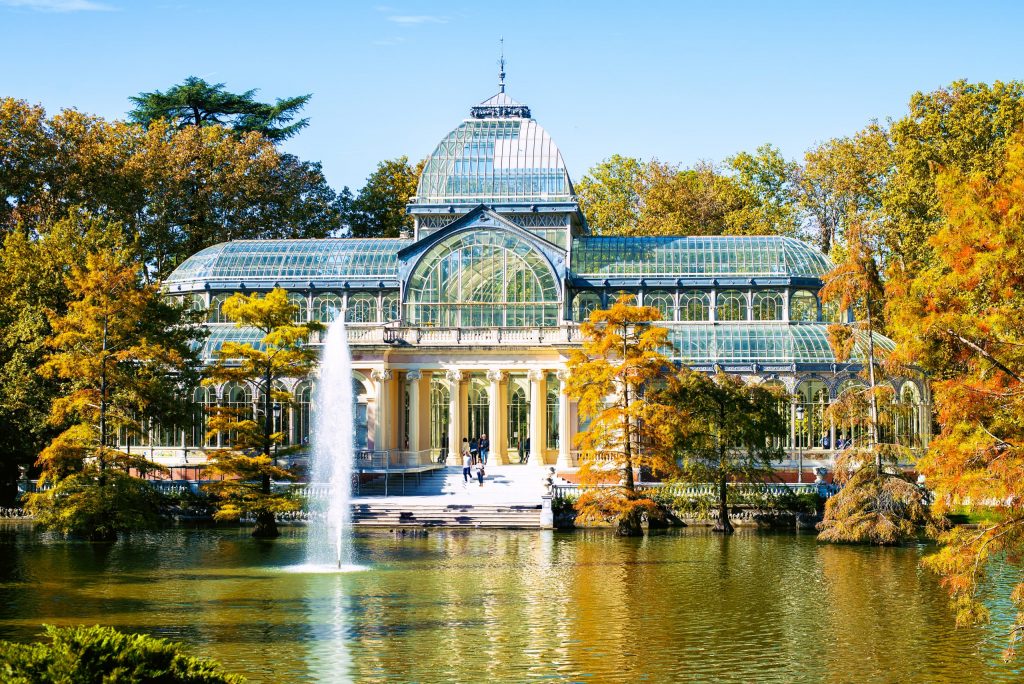 Your trip to this iconic city isn't complete without a drop-by at this amazing home of nature's awesome wonders. Plus, it's completely free! Which means you can save extra bucks for your tourist miscellaneous. Could it even get better?
# 8. Brush up your Spanish
There's nothing as intriguing as trying to speak a language that's not your lingua. It's sweet, fun, and exciting. Not to mention that it makes you a locals' favorite. They notice the effort you put into it, and they love you for it. Learning to speak Spanish may seem somewhat awkward in the beginning, but keep at it. Thankfully, you're not without help.
There are a bunch of English/Spanish translations online you could help yourself to. Talking Spanish, especially the basics, eliminates cultural barriers and every form of discrimination. Saying simple phrases like 'thank you,' 'please,' 'How do you do' convey to the Spaniard that you love their culture, and that you're a part of them. And there is no better way to gain the affection of a people other than that.
Reading takes you to places in your mind; traveling ensures that you experience those places and make precious memories. With Madrid, you have only just gotten started.
Enjoy your trip!