South Africa, although a small section right at the bottom of Africa, is over-flowing with all the wonders of the world. South Africa travel has a variety of scenery and destinations for the avid traveler. From the metropolitan cities to the secluded one horse town, South Africa has it. Every year, travelers flock to see the magnificent beaches all along the coast line with botanical gardens stretching as far as the eye can see.
Here you will find travel tips for South Africa and a little bit of what you can expect when arriving there. Preparing to travel to South Africa has never been easier.
In South Africa you have 11 different languages, Zulu being the most popular one, followed by Xhosa, Afrikaans and then English. English is understood in most urban areas and is the dominant language in the media and government. So as long as you understand and speak a little bit of English you will be fine all around the country. If you find yourself struggling with communication, just turn around, and a friendly face will be able to assist you.
There are a couple of areas that are important to keep in mind that will make your trip to South Africa a lot more convenient.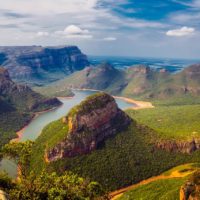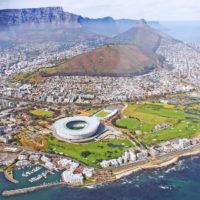 Getting To South Africa
Air
The main airport in South Africa is O. R. Tambo International Airport (JNB) in Johannesburg. Because most major airlines fly into here, the competition keeps fares low. From here, most people will rent a car and travel to the destination in South Africa.
Cape Town has the Cape Town International Airport (CPT).
Durban has King Shaka International Airport (DUR) is a rather new airport that was finished in 2010 just in time for the FIFO World Cup.
Kruger Mpumalanga International Airport (MQP) is located near Kruger National Park. For a quick safari trip, this may be a better option to save travel time.
Travel By Sea
There are a number of cruise lines that make stops in Cape Town. The RMS St Helena travels from the UK to Cape Town.
South Africa Travel Entry VISA
Visitors from most Western European countries, Canada, the USA, Japan are issued a 90 day visitors permit instead of a visa. For more details on entry visas and visitor permits or to see if your country is part of this program, see the South Africa Department Of Home Affairs website.
Passports should be valid for 30 days after the end of your visit and have at least 2 blank pages.
Children under the age of 18 need a birth certificate in addition to their passport. Children traveling with only 1 parent must make sure to have a parental consent form from the non-traveling parent.
Currency
The local currency of South Africa is the Rand, which are the abbreviated as ZAR although many places abbreviate with an R if South Africa is assumed.
You can find Foreign Currency Exchange centers at all the airports. As with most traveling, the currency exchanges at airports and hotels have a slightly higher commission rate. To get the best exchange rates, I recommend using a debit card or credit card to get cash from an ATM.
The texture of the Rand is slightly different than any other currency. Forgeries are circulating  so be careful when working with large bills and always make sure to count your change after a purchase. Visa and Master cards are accepted at all major outlets and restaurants in the metropolitan areas. Flea markets and pop-up shops as well as rural areas will only take cash.
The big five game animals are called The Big Five and include the African elephant, Cape buffalo, African lion, African leopard, and Rhinoceros. All of these amazing animals can be found in South Africa. The Rand note feature these animals on different denominations.
Typical Costs
Typical costs for a shared bed such as in a hostel will be about 175R to 200R. The typical double bed hotel room will be 500R to 1200R. A typical meal will cost 80R to 140R.
Wages are low so tipping is a large part of a South African's income. Tipping of 10% to 15% is typical in restaurants while cafe's are around 10%. Taxis don't require tips but a good rule of thumb is to round up to the next Rand.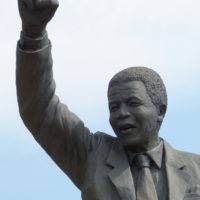 South Africa Seasons and Temperatures
South African weather consist of four seasons.
Summer is from November to February.

High Season is early December to mid-January.
National Parks book up months in advance so plan early

Winter is from June to August.

Low travel season
Rainy season on the coast
Good time for wildlife watching
Lower prices

Autumn starts in March and continues until May.

Sunny days
Cape Town ONERUN in May

Spring starts in September and continues until November.

Wildflower season
Great time for wildlife watching
As you move up to the northern parts of South Africa you will find that it doesn't rain very often and the heat can spike up to 45 Degrees Celsius in midday. This is common in dry climates because the humidity slows changes. The lower parts of the country and along the coastline receive more rain and the temperatures are more manageable.
It is always smart to pack cool clothing for the day and warm clothing for the evening. Even in summer the early mornings and late evenings can get a bit chilly. Wherever you decide to venture, whether it is into the bush or down by the coast make sure to have a look at the latest weather reports.  However keep in mind that the weather changes overnight in South Africa. Be sure to pack in a high SPF sunblock – South African sun is dry and hot. Take a cap/hat with when you are going out on safaris or taking a hike into the mountains.
Health
Prevention Is Better Than Cure
If your holiday consist of visits to South Africa only, then yellow fever and hepatitis A & B immunization shots are not of utmost importance. But if you venture deeper into Africa it is a must.
South Africa doesn't have the malaria mosquito unless you stay close to the border of Zimbabwe, Botswana, Mozambique or Swaziland. The Malaria Mosquito is most active in the early mornings or late evenings when the temperature is slightly cooler. Malaria is a strange disease and there are so many people dying each year from this. Check the area you are visiting and make sure that there haven't been outbreaks of malaria there. For more  information on malaria click here.
I recommend keeping an insect-repellent with you at all times. Although South Africa is not commonly a malaria area, The mosquitos are still a nuisance. Mosquito love to target you during summer evenings when you sit around the camp fire.
South Africa Travel Transport
Public Bus
Basically avoid it! Public transport is not recommended in the Southern parts of Africa. The public transport is a small mini bus used by locals to get from point A to B and there are safety issues. If you must use these buses, be aware that they have reduced schedules on weekends.
Taxi
There are taxi cab services available and you will find their numbers at the airports, local news papers and hotels. Although it is not recommended to share a taxi cab with someone else, this is a common practice. In some cases of travel to a remote destination, sharing may be your only option. Prices may vary from company to company and the area you are in but a typical charge is 10R per mile with a 30R minimum.
Uber has become established there, especially in the metropolitan areas and around the larger airports.
Train
The Gautrain is a local train from Johannesburg airport to Rhodesfield, Sandton and Pretoria, Hatfield. It also has a bus service from the train station to various areas around the station. The prices are affordable and it is safe.
Summary
Preparing to travel to South Africa will be like no other. It hosts a variety of climates – from extreme heat to freezing cold, from desert and dry bush veld to lush greens and beautiful coast lines. South Africa has it all.
Some visitors travel to South Africa just to view the amazing Botanical Gardens or the rain forests or the red sand dunes.
South Africa caters to all age groups, you can learn how to surf or go sailing. Enjoy the water sports, go bungy jumping from the highest point or even cliff diving. Visit the local breweries and for a finer taste, stop at the Wine Lands. You won't find yourself bored for one minute. As I always say, if not, why not!
For more travel tips for South Africa and places to see including the hidden gems nobody speaks about, keep a look out for the next post. You will be amazed at the wonders available in this Southern part of Africa.