8 Cool Men And Their Post-Nineties Career
Remember the time when TV was still cool? We are looking into the life of 10 men that didn't make you change the channel when one of them on.
Ahh TV. The one friend who never let you down and was always there for you. Growing up in the 1990s had its upsides, too, because whatever happened – there was always TV.
Unlike today where TV is a dying breed thanks to smartphones and fast WiFi, and where the merchandise on display is often all too cringeworthy (think Big Brother and all those awful talent shows), the TV landscape of the 1990s had quite a bit offer. MTV was on the rise with Ray Cokes – the European version of Kurt Loder – being an insider-celebrity among those few cool kids who already had cable. And then – the music! No Lady Gaga in sight, instead you would get the finest in Rock and Grunge the 20th century has ever brought about.
Sadly, these days are long-gone. What is left of eccentric rock stars and quasi-role models on afternoon TV? In this article we are delving into past and present of some of the guys every grown man of today will remember like it was yesterday.
RICHARD DEAN ANDERSON
Who he is
If "Richard Dean Anderson" doesn't ring a bell, then his alter ego definitely will. For a total of seven years Mr Anderson has played MacGyver, the tech-savvy problem solver ready to save the world with nothing but a Swiss Army Knife.
One thing we will probably never find out is where the Phoenix Foundation For Research, MacGyver's mysterious employer, got its funding from. But that doesn't matter much. The European viewer was more baffled by another fact: watching the intro it was always strange to see how a 60-year-old American man – Pete Thornton, MacGyver's fatherly friend – could go by the first name of "Dana" in real life (Dana Elcar).
Richard Dean Anderson in 1996
Where he is Now
Once the 139th episode of MacGyver had been broadcasted, Mr Anderson found a side-career as the commander of a spaceship in Stargate SG-1. This one lasted him another 13 years. After that it got quiet around the former world-saver who was so appalled by firearms.
When he was spotted grocery shopping in 2015 good 'ole Mr Anderson looked more like the Marshmallow Man than the athletic MacGyver. Today we know that too much baby-like fat often is the side-effect of SNRIs (Serotonin-Noradrenalin-Reuptake-Inhibitors). These are a common prescription drug against depression. In that sense, let us just hope MacGyver is doing alright.
...and in 2015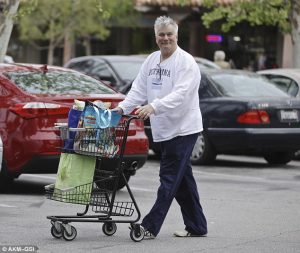 AXL ROSE
Who he is
"Welcome to the Jungle, we got fun and games, we got (…)" – Give me a fucking break! These days, the first track off of Guns 'n' Roses' Appetite For Destruction, Welcome To The Jungle, is exactly what mainstream radio stations play if they want to appear "cool" and "egdy". God, what losers. The truth is that Guns' 'n' Roses were in fact – a pretty cool band. And Axl Rose as the squealing, nasal-voiced front man really delivered. Well, most of the times, that is.
"Guns 'n' Roses showed us how not to do it," Metallica's James Hetfield said about touring with Axl & Co. Why the harsh critique? During their 1992 joint world tour Axl Rose at one point simply refused to get on stage. The sole reason being that his "throat hurt". A deeply unpleasant scenario, of course, which nonetheless didn't keep him from sipping whiskey and smoking cigars backstage, complaining about how much his "throat hurt". In the meantime enraged fans were crushing the stage and the band's equipment.
Axl Rose in 1986
Where he is Now
After the Use Your Illusion world tour (1994) Axl bounced in and out of show biz. In 2000 Rose reappeared with a setup of Guns 'n' Roses that featured only one of the original band members, Dizzy Reed. Their decade-long world tour for the Chinese Democracy album sparked only little media attention.
2012 saw the re-unification of Guns 'n' Roses, and it was also the first time for Axl to reunite on stage with Slash, an occurrence that had not happened in 23 years. Contrary to common belief, Axl has never been addicted to drugs, nor has he been an alcoholic. And his classification as "bi-polar" stems from him filling out a 500-item questionnaire, not from years of therapy. Oh, and his bloated looks? Probably SNRIs.
...and in 2015
DOLPH LUNDGREN
Who he is
This is a ridiculous question to begin with. Because not knowing who Dolph Lundgren is means not having seen Rocky IV. Chances of that being the case when you are reading this article at the age of 25 or older? Almost zero per cent. Featured as the ruthless Soviet machine of destruction, Ivan Drago, Mr. Lundgren positioned himself pretty early as a massively built, unstoppable badass action-hero.
With a 3rd Dan black belt in Karate it was later movies like Universal Soldier and Johnny Mnemonic through which he cemented himself as a bona-fide Action-Hero, a stereotype so dearly loved in the 90's – and so derogatively forgotten by our time. In real life our Dolph is actually a surprisingly educated man. Not only has he received a Fulbright scholarship to the MIT, he is also holding a Master's Degree in Chemical Engineering which is only fitting for his seemingly absolute lack of any human emotion.
Dolph Lundgren in 1985
Where he is Now
Once the action movie-scene started dying down, Dolph Lundgren was trying himself as director to direct-to-video films. This mostly stands for horrible movies no one really wants to provide any financing for so they get released straight to VHS/DVD where they end up in the bargain basket in bigger supermarkets.
Good thing he decided to quit that. Lundgren went back to do what he does best, namely playing roles in action movies. Today he is focusing less on sheer violence and more on character, best portrayed in films like Hail, Caesar, or War Pigs. But of course, there is the Expendables, a movie that should have never made it through censorship if you ask me, but at least it pays his bills.
...and in 2015
BILLY CORGAN
Who he is
How do you turn teenage angst into music? You create a studio album and name it "Mellon Collie And The Infinite Sadness". And then you sell 10 million copies of it. A quarter million of them in the first week alone. The Smashing Pumpkins did just that. Centered around front man Billy Corgan the Chicago-based alternative Rock band had nothing do with the Grunge-hype of the early 1990s – they sold more records than most of them regardless.
Mr Corgan himself is quite the character. His anger-ridden lyrics ("Despite all my rage,  I am still just a rat in a cage") hit the Zeitgeist's sweetspot. His trademark bald head did more for balding men than Bruce Willis ever could. An Introvert in his private life, Corgan is renowned for stepping off the stage and punching loud-mouthed fans in the face, espeically after they threw lighters or coins at him.
Billy Corgan in 1997
Where he is Now
My oh my. If you ever wondered how alternative rock stars age then here comes your answer: after rarely appearing on TV for decades Corgan made an impressive appearance on Alex Jones' InfoWars YouTube channel. Bashing SJWs – Social Justice Warriors, the US term for feminists, gender advocates and the likes – and warning about them undermining free spech Corgan does make a series of good points.
Nonetheless, look-wise Mr Corgan seems as if he had sent in the homeless guy from down the street to take his interview. That, or it simoply was freezing cold in that studio. Did you know he even started a side career as a Wrestling promoter? Not kidding.
...and in 2016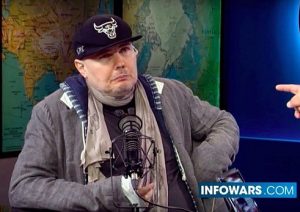 MIKE TYSON
Who he is
We all know about the story of the frog and the scorpion, and how the scorpion can't help his nature, killing both of them while trying to cross the river. Mike Tyson would fit in here brilliantly, a cut-throat athlete who just lives by his nature. Which in his case means seek & destroy. And harass. And bite off your ear. His life-mantra probably is "once a fighter, always a fighter," a mantra he followed quite literally. And if there was no prize-fight or at least a bar-brawl in sight, he happily beat up his wives.
While being one of the biggest boxers ever, he just simply couldn't get it together outside of the ring. Sometimes even causing trouble inside the ring as no one can ever forget the infamous moment he bit off Evander Holyfield's ear. A popular public figure – albeit almost always for the wrong reasons – Mike Tyson quickly stepped on a downward spiral, especially when he added alcoholism to his résumé. That, of course, didn't really help in keeping a marriage together of which he has had three already.
Mike Tyson in 1985
Where he is Now
Following his boxing career Tyson lived off of his popularity. He appeared in a number of film and TV cameos, and when nothing else worked out, he lied about becoming a vegetarian and about sobering up.
Now he lives with his third wife in a lifestyle he himself described as "from paycheck to paycheck". Translated into more colloquial terms this mostly means that he is mercilessly bankrupt. Hopefully his salary from his cameo in The Hangover still keeps him afloat.
...and in 2016
GAVIN ROSSDALE
Who he is
Meet the only guy you could watch playing the guitar shirtless without feeling gay. Or feeling bad at all. Mostly, because Mr Rossdale has more of a slim frame, thus not raising much of men's envy in terms of muscles – we are talking the early 1990s here, going to the gym still was a novelty, and all too buff guys were frowned upon: he's doing pills, I can always tell!".
A soft-spoken Brit in his private life, Gavin Rossdale almost started a career in professional football before he formed Bush in 1994. The band's debut album Sixteen Stone featured hits like "Comedown", "Machinehead" and "Glycerine", paving the road for stardom. Note: "Swallowed" was released two years later, namely on Razorblade Suitcase (1996).
Gavin Rossdale in 1995
Where he is Now
More inofficially than officially, Bush split up in 2002. This led Rossdale to a side-hustle in acting which he perused roughly from 2003 to the year 2009. With all respect to his merits as a Grunge icon, his appearance in 2005's Constantine alongside Keanu Reeves has to be considered one of the most wishy-washy performances in the history of acting.
After a fling with singer Marilyn who has – watch this –  "Peter Robinson" written in the "name"-field of his passport, Gavin Rossdale easily qualifies as a bisexual man. He met Los Angeles-based singer Gwen Stefani in 1995 and finally married her in 2002. Quite unusual considering their profession, the two of them led a fulfilling marriage entirely free of excess and only filed for divorce in August, 2015.
...and in 2016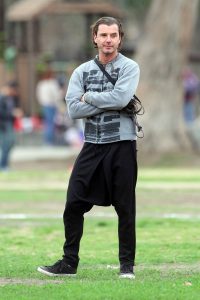 VINCENT GALLO
Who he is
If you suffered from insomnia during your teenage years then there is a high chance you have come across Vincent Gallo. Watching the night away in front of your non-flat TV one of the "culture" channels might have aired "Buffalo '66" or "Truth or Consequences," Vincent Gallo's neo-noir masterpieces of 1997/98.
If anything, then Mr Gallo is the definition of being eccentric. Not one of the actors starring in his movies is quoted without mentioning "strong difficulties" when working with Mr Gallo. They do have a point, though, as Vincent Gallo could also be described as "a total asshole". Christina Ricci, co-star of Buffalo '66, disavowed to ever working with Vincent Gallo again after he had called her "fat" even years after the movie was released. Roger Ebert, famous film critic, was someone Vincent Gallo wished colon cancer upon.
Vincent Gallo in 1998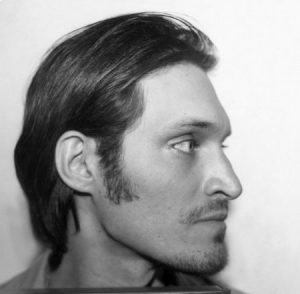 Where he is Now
Vincent Gallo keeps on making independent movies, releasing one of them every other year or so. His latest release is a remake of the legend of Kasper Hauser that was produced entirely in Italian. Gallo's best PR stunts outside of the film business take place in the virtual world.
To this day Gallo remains the only (C-list) celebrity to auction a "night" with him on Ebay. For the modest price of 50.000 US Dollars ("plus expenses") females had the chance to spend one night with the alluring man who at least look-wise somewhat resembles Charles Mansion.
...and in 2016
Don't believe me? Gallo even warned potential winners of the auction about the size of his manhood. In his own words:
"Potential clients are advised to screen the controversial scene from The Brown Bunny to be sure for themselves that they can fully accommodate all of me. Clients who have doubt may want to test themselves with an unusually thick and large prosthetic prior to meeting me."
Ladies, he's a keeper.
DAVID HASSELHOFF
Who he is
No article like this could be complete without Germany's long-lost son, David Hasselhoff. Not only did he create the most successful TV show of all times, with Baywatch airing in over 90 countries, his hotspot fame-wise was not the US, but Germany. Here, Hasselhoff landed a couple of number one hits singing about the fall of the Berlin Wall.
David's rise to fame began with Knight Rider where he saved the world from evil not with a Swiss Army Knife, but through the support of a Pontiac Firebird with futuristic capabilities. Faceless "foundations" must have been en vogue in the early 1990s as Michael Knight was employed by just another "Foundation", this time the one "For Law And Government".
David Hasselhoff in 1985
Where he is Now
A little past his prime David Hasselhoff even took part in the infamous Big Brother series, living inside a cointainer while constantly being filmed. And then, in 2007: the cheeseburger video. If anything, it proved that Mr Hasselhoff is only human like the rest of us.
His latest passions include being a judge for the Britain Got Talent-TV show while also acting as an organzier with the annual races in the Gumball 3000 series. Not exactly the Formula One, but that shouldn't bother him too much. Afterall, he still has earned more Facebook likes than Ace of Base.
...and in 2016