The Best Deodorants For Men
We are presenting you the theory behind deodorants and antipersirants. Our head filled with wisdom, we will have a look at the best men's products on the market.
After we have encountered the best perfumes for men in a list of timeless classics in men's perfumes it is time to turn the focus on perfume's younger brother: Through cross-nation comparison we are about to discover the best deodorant for men. Speaking of quality it is helpful to start off with some insight into the way men's deodorants deliver their service. So before we get to the definite list of the top deodorants for men, we will fill our head with wisdom on some deodorant theory.
Directly following we will encounter the best in men's deodorants that are available in some of the best countries to live in. Get ready for the top 10 of men's deodorants that you will not come across every day when strolling the shelves of your local drugstore.
Understanding How Deodorants Keep You Fresh
How do deodorants work? In regard to understanding deodorants it is crucial to differentiate between deodorants and antiperspirants. Despite common belief there are some fine, but important differences between the two that are worth pointing out. Once we have learned about the difference between deodorants and antiperspirants it is time to have a look at scene in different European countries. In a never-before-seen list we are then bringing you the best deodorant for men in the 8 most travelled European countries.
Ready? Let's have a look at the fundamental difference between the two types of men's deodorants.
How Deodorants And Antiperspirants Work
In case you ever wondered why a care product that seeks to make you feel fresh and smell good comes with the rather unusual name of "deodorant" here is your answer: derived from Latin dis-odorator the composite word has seen some mild alteration and could be translated as something like a body-odor-de-attacher.

How Body Odor Develops
The vast majority of deodorants are alcohol-based which is often seen as reaching two goals at once: on the one hand alcohol is seen as the perfect base fluid for any scent omitting constituent, on the other hand the sterilizing effect of alcohol is said to neutralize bacteria. Dwelling in the perfect nurture ground for bacteria that is the human armpit, bacteria are the number one reason why human sweat develops an unappealing smell in the first place: human sweat as such may is entirely odorless. It is only through time and unfavorable hygiene that bacterias decompose, thus creating a smell.
Deodorants As Perfume
In sum, deodorants can be seen as an unsophisticated version of perfume. Featuring far less different scents and ingredients – Giorgio Armani's Pour Homme is said to consist of no less than 300 additives – both deodorants and perfume rely on alcohol as their carrier material and are rich in odor emitting components.
When deodorants have a more outside approach to making men feel good & fresh then antiperspirants go to the root of all evil.
Antiperspirants Affect Your Body
While 'evil' is not really the right choice of words, antiperspirants definitely go to the root. Their way of functioning is through closing the human pores that are emitting sweat in the first place. In detail, antiperspirants work by creating a tight-sitting film of fluid that consists of two components: (1) wax as the carrier fluid that in deodorants mostly consists of alcohol, as well as (2) an aluminium-based salt that mostly is one of the followiong three:
Aluminum chlorohydrate — aerosols, roll-ons

Aluminum zirconium tricholorohydrex glycine — s

ticks, gel

s

Aluminium chloride — more a prescription drug
Applied to the armpit, antiperspirants then emit the aluminium ions contained in the aluminium salt. These ions congregate inside the cells of the epidermis, the top layer of the human skin. Binding the water, i.e. the sweat that is about to be discharged the aluminium salt contained in antiperspirants plays the key role in keeping sweat that would normally leave the skin.
✘ One of the most long-lasting deodorant for men available in the US: Degree for men (antiperspirant, contains aluminium, $6.99)
Aluminium In Antipersirants
As you might have guessed, there is no definite answer to what type really makes for the one product that is right for you. The most contributing factor to whether antiperspirants or an all-natural deodorant is for you simply solely depends onhow much you sweat.
Aluminium Or No Aluminium ? – An Individual Decision
By their nature men are blessed with differing amounts of welding cells, hence with differing intensities in how much and how easily they will break a sweat — a factor that, just like your height, you simply have no influence on. If you are a bit on the heavier side regard to welding cells, meaning if you sweat easily and then heavily on top of it you will be more likely to try an antiperspirant instead of a deodorant and vice versa. Yet apart from the difference in their way of functioning, there is another natural factor to keep in mind, namely your health.
In our quest to find the best deodorants and antipersirants for men, one must not turn a blind eye on the possible effects of Aluminium on your health. The major aspect that caused and is still causing a lot of rumors is the fact that Alzheimer patients are often diagnozed with an increased amount of aluminium in their blood. This goes tgether with the fact that aluminiujm in higher doses acts also classifies as poisonous.
Aluminium = Bad?
The European Food Safety Authority (EFSA) has set the limit of a tolerable weekly intake (TWI) to 1 Milligramm (mg) of aluminium per kilogram of body weight. While the vast majority of available refers to the oral consumption of aluminium through food – aluminium is a natural ingredient of many foods, for instance cheese, fish and pickles – EFSA, according to their latest study, are still unsure whether an aluminium intake through antiperspirants will act a systemic toxicant or not.
Circumstantial evidence has linked this metal [aluminium] with several neurodegenerative disorders like Alzheimer's disease (…), but no causal relationship has yet been proven.
Aluminium definitely can be a harmful substance that should be consumed with care. Be that through food or through the use of an antiperspirant. This being said the chances of of having any antipersirant affect your health even if you use them daily can be seen as marginal.
Intake Through The Body Or Through Food
It can be argued that aluminium reaching your body directly by being applied to your skin cannot be filtered by your stomach like if you consumed aluminium through food. In that case the aluminium contained in antiperspirants would have a more striking effect on your body than the aluminium contained in fish, cheese or other foods. But then again who can really imagine they will one day suffer from Alzehimer's through the year-long use of antiperspirants alone? Or through the consumption of pickles?
To be on the safe side here is a list of tips that allow you to lower any possible health risk to the absolute minimum.
Leave the antiperspirant for the really hot days
To minimize any risk simply make use of antiperspirants only exceptionally. Apply it on those occasionswhen you want to avoid damp patches under your arms at all cost (think job interview or first date).
If you are ny by nature equipped with so many welding cells that even an antipersiprant won't deliver for long I suggest you talk to your doctor. A surfeit in welding cells can be easily be reduced through a brief medical intervention.
— With these insights in mind let us now have a look at the best deodorant for men in 8 European countries.
The Best Deodorant For Men: Europe's Top 8
 1. GERMANY

✘ Axe: Dry and Sensitive
Owned by cosmetic giant Unilever Axe is one of the biggest deodorant brands in Germany. Dry and Senstive is a new product that excels in sensitivity to men's skin. Even though it is not aluminium free the deodorant is sure not to cause any rash or skin irritation.

Axe: Dry & Sensitive

Contains aluminium

150ml spray: 3,99€
 2. AUSTRIA

✘ Acqua di Parma: Colonia Intensa
Italian-made by Acqua di Parma the deodorant Colonia Intensa is an all-year bestseller in Europe, and in nearby Austria in particular. Citrus topnotes meet heavy wooden basenotes thus making for quite the manly scent.
Acqua di Parma: Colonia Intensa

Aluminium free deodorant (contains alcohol)


75g stick: 26,95€
 3. FRANCE

✘ B-Comme: Bio Homme

A high-tech yet fully natural product from France. This fully organic and natural antiperspirant ("régulateur") does neither contain aluminium salts nor alcohol and thus is highly sensitive to any men's skin. Contains giner as well as fully organic Sage.

B Comme: Bio Homme

Aluminium free, alcohol free deodorant


50g stick: 6,95€
 4. SPAIN

✘ Nivea: Deodorant for men

With the Spanish market being dominated by big, non-Spanish corporations like German Beiersdorf, it is no surprise that Spaniards tend to stick to their products. Beiersdorf's Nivea brand delivers a stable antiperspirant that contains aluminium, but is alcohol-free.
Nivea: Deodorant for men

Alcohol-free deodorant (contains aluminium)


75ml roll-on: 3,95€
 5. CZECH REPUBLIC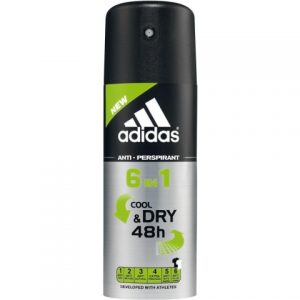 ✘ Adidas: Dry & Cool 6 in 1
Popular in the Czech Republic is the quasi-High Tech deodorant Dry & Cool by Adidas. High-Tech because this one caters to almost every scenario imaginable: alcohol-free, aluminium-free, no white/yellow residues on your armpits, an antibacterial effect and the promise of odor protection lasting no less than 48 hours make this deodorant a great choice for men. No wonder it is Prague's most popular deodorant among men.
Adidas: Dry & Cool 6 in 1

Aluminium free deodorant, alcohol free deodorant


150 ml spray: 99,90 Kč (3,70€)
 6. HUNGARY

✘ Bionsen: Bionsen Mineral Deodorant
Germans may like to shield their markets from foreign imports, Hungarians love to import things. This mineral enhanced alumium free deodorant stems from the Greek Sarantis Group and is only mildly perfumated. Designed as a unisex product the Bionsen deodorant is ultra-sensitive to both male and female skin alike.
Bionsen: Bionsen Mineral Deodorant

Aluminium free deodorant (contains alcohol)


75g stick: 3992 Forint (12,50€)
 7. SWEDEN
✘ Malin+Goetz: Eucalyptus Deodorant

Talk about globalization: one of the best deodorants for men in Sweden these days comes from New York City. Malin might be a popular Swedish first name for girls, but in this case it's the last name of an ingenious inventor in cosmetics: the Eucalyptus deodorant by Malin+Goetz is acohol and aluminium-free and features the all-natural and odor-neutralizing ingredient of Citronellyl Methylcrotonate. Probably the best antiperspirant for men in our list.
Malin+Goetz: Eucalyptus Deodorant

Aluminium-free, alcohol-free


73g stick: 18,30€
 8. ITALY

✘ Giorgio Armani: Armani Code

Original named Armani Black Code the fragrance now known as Armani Code is part of Armani's highly succesful Emporio collection. Scent-wise Armani Code sticks out through its oriental base notes of Guiac Wood and Tonka Bean that make for a very masculine fragrance – probably the best deodorant for men in our list.

Giorgio Armani: Armani Code

Aluminium-free and alcohol-free deodorant


75g stick: 20,50 €