A Timless Classic: The Money Clip

Considered an artefact of the '80s by many, the the money clip is here to stay. Meet the best alternative to carrying a brick-sized wallet.
The money clip is a very underrated solution to a very common problem: in every day life coins, receipts and business cards add up fast. Before you know it, even the smallest billfold has become the size of Rosie O'Donnell. Instead of a wallet you will now be carrying a brick that will make your pants sag and rip holes into your pockets – What can you do about wallets getting bloated over time?
Enter The Money Clip
Carrying a money clip comes as a useful alternative to wallets. A sophisticated metal clip will hold together your most needed cards and cash while it is at a fraction of the size and weight of your wallet. In fact, money clips can be so lightweight and effective that they have been called the minimalist version of a wallet.
Money clips can be seen as the minimalistic version of a wallet. What does that even mean?
At first, money clips seem like a loss of features: when you are using a money clip instead of a regular wallet certain things will no longer be with you. That piece of paper to scribble down a phone number, your photos as well as your coins will be out of your reach. But these 'downsides' only seem like a loss. The clip will not render you helpless at all. Instead, it will have you focus on the essentials. With your creditcard and the one or other ID card you still have access to those items that really matter.
And when you are making the credit card your prefered means of payment, (useless) coins will stay right where they belong: in the store's register.
Your wallet is becoming brick-sized? This summer, put your wallet into a vice by replacing it with an easy-to-carry money clip.
This being said, there is one occasion where even the worst money clip will beat your wallet in a landslide victory: summer time.
Hot and humid weather forbids you to wear pocket-rich clothing like coats, suit jackets or long pants. The hotter the weather, the more likely you are to wear your Miami Vice-style shorts and loafers anyway, thus taking briefcases and wallets completely out of the equation. Once the temperature goes up, the money clip comes into play.
What is the unimposing little gadget of money clips all about?
The Three Types Of Money Clips
In a nutshell: A money clip basically is a stripe of metal bent down in the exact middle. That way you have a plier-like metal clip that can be bent up to about half a centimeter. This gap is where your paper money goes. Due to its plier-like shape the clip will hold on to your money in a tight grip so that nothing will get lost.
Look-wise the majority of clips consists of brushed or polished metal. But there are much more advanced versions out there. Money clips come in all shapes, sizes and colors, with a never-ending series of features on top of that. To get to the essence of money clips, every single clip available on the market falls into one of the following categories:
Classic clips

Magnetic clips

'Wallet' clips
1. The Classic Clip
This one almost goes without saying. On average the classic clip is about 5cm in length and 1,5 cm in width. It will wrap nicely around half a dozen of folded bills.
The material used for the clip can range from more pricey metals like silver, gold, titanium (hypoallergenic) or even platinum to more basic material like stainless steel or nickle. While gold and titanium are more pricey, nickle and stainless steel are the most common material you will find on the market.
Some clips will only consist of a metal bent onto itself, other clips feature a small hinge. A hinge is to be considered a huge plus, because it will make it much easier to insert cards into the clip. Look-wise, classic clips often come in a matt or
A classic money clip made out of nickle. With a mirror-polished finish the clip is subtle, timeless and elegant. Since nickle is not that pricey, the pictured clip will only cost you 15,90 €. | Photo: philippi.com
mirror-polished finish, with a polished finish adding tremendously to an elegant look.
Metal & Allergy
Classic mone clips have the downside that some metals may cause an allergic reaction. This is often the case with more low-quality metals like nickle. Nickle is the one metal that is most likely to cause an allergic reaction.
Even though a nickle-based money clip is mostly fully covered by a layer of  steel, there always remains a rest risk to those allergic to the material. Even more so if you have very sensitive skin. Buying a clip made out of high-profile material like titanium eliminates this risk entirely. Just like you would only buy a wallet that is made out of high-quality leather – and not not some cheap leather substitute – going for a high-quality clip made out of high-quality metal is definitely worth the money.
As a basic rule of thumb you should always go for the highest quality in material that you could possible afford. Your skin and your immune system will appreciate it.
A classic money clip made with a hinge and an engravement. This one is made out of sterling silver at comes at the price of 300 €. The pictured engravement is that of the manufacturer, custom engravements are available. | Photo: tiffanys.com
A popular way of personalizing the clip of your choice is through an engravement. For a modest charge many jewelers offer to customize your clip by engraving individually chosen letters into the metal. Done correctly this can make for a hreat enhancement to your clip, while a personalized money clip also makes for a perfect gift idea for men.
As the materials that clips are made of vary heavily, so do prices. Well-crafted clips made out of nickle like the one by Philippi (above) are sold within the jewelry departments of larger stores and start at modest prices of only 15,90 €.
See an example of a similar money clip from Amazon.com below.
[easyazon_infoblock align="center" identifier="B00NHM1KSE" key="image" locale="US" tag="euro0c3-20″]
The more sophisticated version by New York City-based jewelry retailer Tiffany's ("Breakfast at Tiffany's") are made out of sterling silver and start at 300€.
Tiffany's offer several fonts for a customized engravement that will trigger an extra charge of 30 €.
Another option is this Sterling Steel money clip from Sterling Manufacturers of Italy from Amazon.
[easyazon_infoblock align="center" identifier="B01N0Q4C8E" key="image" locale="US" tag="euro0c3-20″]
2. Magnetic Clips
Calling them magnetic clips is a little misleading. It is not the actual clip that is magnetic.
A magnetic money clip is made out of two magnets that are sewn into the ends of a durable material. Instead of the plier-like grip, it is these two magnets that will hold everything together.
Almost exclusively, the two magnets are stitched into a stripe of leather. This stripe is often a little wider than the stripe of metal used for the classic clips.
Higher Capacity With Magnetic Clips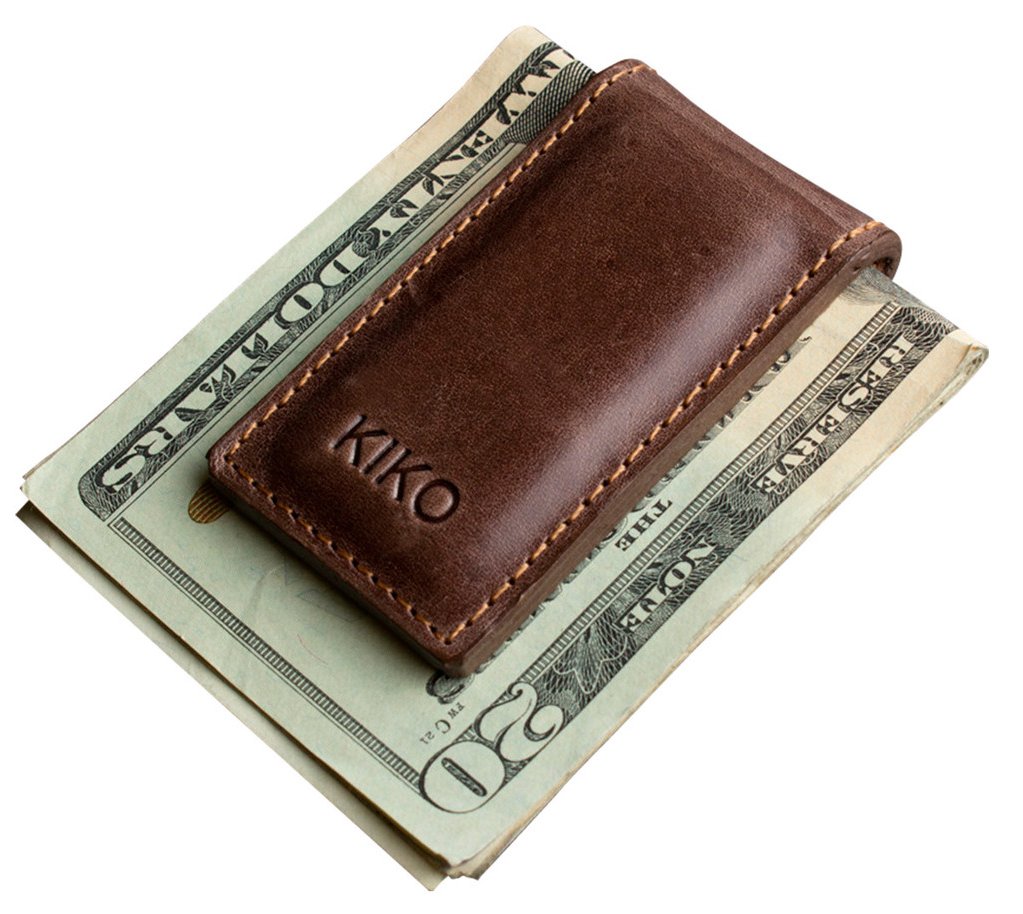 This magnetic clip measures 70mm x 40mm and is made out cowhide leather. Heat burnished details give it a classy rugged exterior look. Sold by Kiko Leather for $18 (shipping included) the clip is a real bargain. | Photo: kikoleather.com
Magnetic clips are no longer so subtle and discreet. While the classic clip stays in the back, magnetic clips are clearly visible as the gadget holding everything together.
They are heavier, albeit only slightly, and have an increased capacity of carrying cards and money. The amount of money bills that can be carried with a magnetic clip can be twice as much as those of a classic clip. Also, (real) leather is a very natural component. This has the great upside that magnetic clips have the highest skin compability of all money clips, the chance of allergic reactions with magnetic clips is reduced to an absolute minimum.
Here is the big upside with magnetic clips: the wider leather strip and the magnets enlarge the surface that is applying pressure to bills and cards. Add to that the power of the magnets and the magnetic clips come with the strongest cohesion of all clips.
The occasional bill sliding out of your clip may be a (rare) occasion with the classic clip – especially those without a hinge – but it is almost impossible to happen once magnets are involved.
Decent money clips made out of real leather do not have to be expensive. The featured magnetic clip by US-based Kiko Leather comes with two strong magnets. The quality product is made out of cowhide leather and has a cool rugged exterior look. Priced less than 20€, it is anything but pricey.
If ordering from Amazon, this is a good option.
[easyazon_infoblock align="center" identifier="B001EVX9DE" key="image" locale="US" tag="euro0c3-20″]
3. 'Wallet' Clips
So called 'Wallet' or 'hybrid' clips are money clips that feature credit holders. Here, credit cards are no longer kept next to the paper money held together by the clip, but have genuine slots in which they can be inserted.
Wallet-style money clips come in a wide variety of designs. The most widely spread items are two-sided clips with a regular money clip on the one side and one or more card slots on the other. The case holding both card slots and the clip are made either of leather, thus often featuring a magnetic money clip, plastic (with a plastic number clip) or metal with a clip made out of metal as well.
Aside from the regular case-based wallet clips there is a second version that features both clip and card holders, but
no fully grown case in between them. A 6-times bent metal clip, wallet clips have a total of three compartments that allow for the simultaneous carry of cash, credit cards as well as other cards to be put into the third compartment.
Wallet clips are a refreshing new trend that aims at the roots of the money clip. A leather-based wallet clip might still be smaller and thus more convenient to carry than a regular wallet or briefcase, yet having cash and cards combined through nothing but a regular clip goes to the core idea of the gadget. In reverse, one could say that a non-minimalist wallet clip goes against the idea of a money clip which, after all, was meant to be a substitute for a wallet – and not just a lighter version of it.
Magnets & Credit Cards
One major problem with wallet clips and credit cards is that
the wallet clip, in any case, is still operating with a magnet. This opens the door to destroying the highly sensitive magnet stripe of the card.
The Solution To Carrying Credit Cards in Magnetic Money Clips
Carrying a credit card in a magnet-based clip does may necessarily affect your credit card when you do it for a limited time only. Also, placing your credit card with the magnetic stripe facing out may lessen the risk of damage to the stripe. However, constantly carrying your card in a magnet-based clip might destroy your card in the long term, says credit card portal creditcards.com that has conducted an interview with a physicist on the matter.
The problem of magnets affecting credit cards can be fully avoided once you are making use of a 'minimalist' wallet clip as pictured above. Here, no magnet is involved and your credit will remain intact under any circumstances. In any case can we only recommend using your money clip for its namesake – money.
We are a participant in the Amazon Services LLC Associates Program, an affiliate advertising program designed to provide a means for us to earn fees by linking to Amazon.com and affiliated sites.