6 Out-Of-The-Box Places To Meet Women
Tired of grinding through the same routines every night? We are showing you the top venues to meet the woman of your dreams during the daytime.
Meeting women can be exhausting. We all know that. For some, it can even be emotionally draining. And it is difficult, for many reasons. Some people simply dislike going up to strangers, feeling uncomfortable to engage in a conversation with someone they do not know beforehands.
Then again, some people generally don't know how to keep a conversation going with somebody they barely even met. And there are a ton of guys who just simply don't like bars or noisy clubs where they always meet the same kind of girls, in the same situations, over and over again.
I've met many people, who absolutely despise these situations. But the bottomline of the conversation is alway the same: What are alternative places to meet women, outside of the bar scene, nightlife and so forth?
Granted, meeting new people during the night is the most common and socially accepted premise to find partners. People going out in pretty, having a fun time while getting a little tipsy – obviously meeting new people is perfectly fine in these types of situations. So what is keeping men from trying to do the same in other socially accepted environments, outside of nightlife?
Yes, it's not far from bars, I concur. However, coffeshops are calm and tranquil, unlike the increasingly rowdy joints where you tried yourself and failed so many times before.
Also, they're open all day, so there is no need to waste any precious sleep. In the Western world, there's a rising number of people who spend a lot of time in these shops, shuffling away on their laptops, sometimes even spending hours there so the argument that the only chance to talk to anyone is while waiting in line at the register is just invalid. So why not make the coffeeshop your new hunting ground? Certainly, there's no need to have a deep one-hour conversation, but a few minutes of chatting can easily lead to phone numbers.
How to approach:  I'm aware I still haven't provided any means of how to start talking to women in broad daylight.
There is in fact a very good method that might come across as weird at the first read, but that will actually work: Just ask them to watch over your stuff (laptop, coat, glasses, whatever), while you grab another coffee. Or go for the restroom, doesn't matter. On your way back, just saying a brief 'thank you' and observing something about them ('Are you reading XYZ?') is a good way to start a conversation.
Sidenote: Still feels a bit dodgy? Well, at least it starts off with some everyday mannerism before getting a little more 'personal'. An alternative would be to stick to the laptop option andst ask them if you can use the socket next to their table (This certainly carries the pre-requisite of having any open sockets available). Additionally, of course, there's the real manly way: just going up to them. Seriously, how is it any different from doing the very same thing in a pub?
Sounds cheesy, you're right. But even as men, we sometimes have to do our own shopping as is the way of life.
But what if I told you that you can turn this around? That there's more to do than just running in, taking whatever we need and then run out again?
Remember: It is a shopping center. What is it that most women do on an unreasonably large scale? Naturally, they shop. So obviously, in shopping centers there is a considerably bigger chance of running into a series of females who are actually taken already.
But then again, it's all about numbers, and this little problem is just one. The upsides, on the other hand, are striking. One of them being that there are all kinds of shops, stores, cafés and restaurants so that if things are going well, the two of you can go on an instant date. But getting back to basics, there are just uncountable possibilities to hit up a conversation and talk to people.
How to approach:  You can chat to a cashier, a storekeeper, even with another shopper, for example asking them if that shirt fits your trousers. They like to give advice, even if it's to a stranger, if he approaches as nice, witty and uninvading person.
3 | Libraries & Bookstores
Reading can be all sorts of a magical experience. Why not share?
This one will surely appeal to the intellectuals. Before we start, one might raise the valid argument that trying to flirt in a library or book store will simply have you being asked to leave. But those people surely haven't gone to a place that sells books in the last decade. If you happen to live in a mid-to-large sized city, there's definitely at least one that has more allowing policies.
These days some bookstores have become such lively environments that they even offer 'bars' where people can have a tea or any other warm beverage. That would be a great option to continue your conversation after you just realized you're both fans of the same Edwin Morgan collection. On a serious note, bookstores and libraries are a massive opportunity to discover common interests among people who are into literature.
How to approach: This  might be the only time I tell anyone to just do as they see it in the movies: Take notice of the cover of the book that she is reading and ask a question or make a comment about it. If it goes well, opportunities are limitless.
Museums cater even more to the intellectuals among readers. And since I'm not one of them, for one reason or the other, the shown art is usually the last thing that captures my attention in museums or galleries. Sowhen I first treated museums and galleries as a venue to meet women all I did was is watch other people to see how to behave and enjoy myself appropriately.
So many people, so little time.
The first thing I realized after trying out museums as a place to meet women? Obviously, everything has to be toned down. Also, due to the culture-rich environment, any man who tries himself must be at his very best.
But for those sophisticated enough it should not be that difficult. Lest we forget, those of us who are really into arts, culture and craftsmanship will feel entirely at home which really helps the case.
…two people who are really into art should be able to have a conversation about all the beauty that's put in front of them…
And again, almost all arts galleries and museums come with a café, which we already determined to be a great way for an 'instant date'. Visiting these places when travelling? That's even better. Great way to find new friends, not to mention the added bonus of all these women being upbeat, and already open for new things.
How to approach: Dead giveaway here: just go up there and start talking about the piece of art in front of you. Mention a fact or just ask if she has the same view on it. It is that simple. No need to make things up or act like you know something you do not know. Just start a conversation, as if talking to an old aquaintance.
This list would not be complete without the most favourite venue of them all: the beach.
Because, being honest, even if one doesn't intend to spend their time gazing at almost-naked bodies, it happens anyway after a while. And the best part about it: It's perfectly fine, nobody really cares, unless it's becoming too obvious. Even then, sunglasses are great friends. So yes, meeting women on the beach does work, and this time, those in good shape are in favor.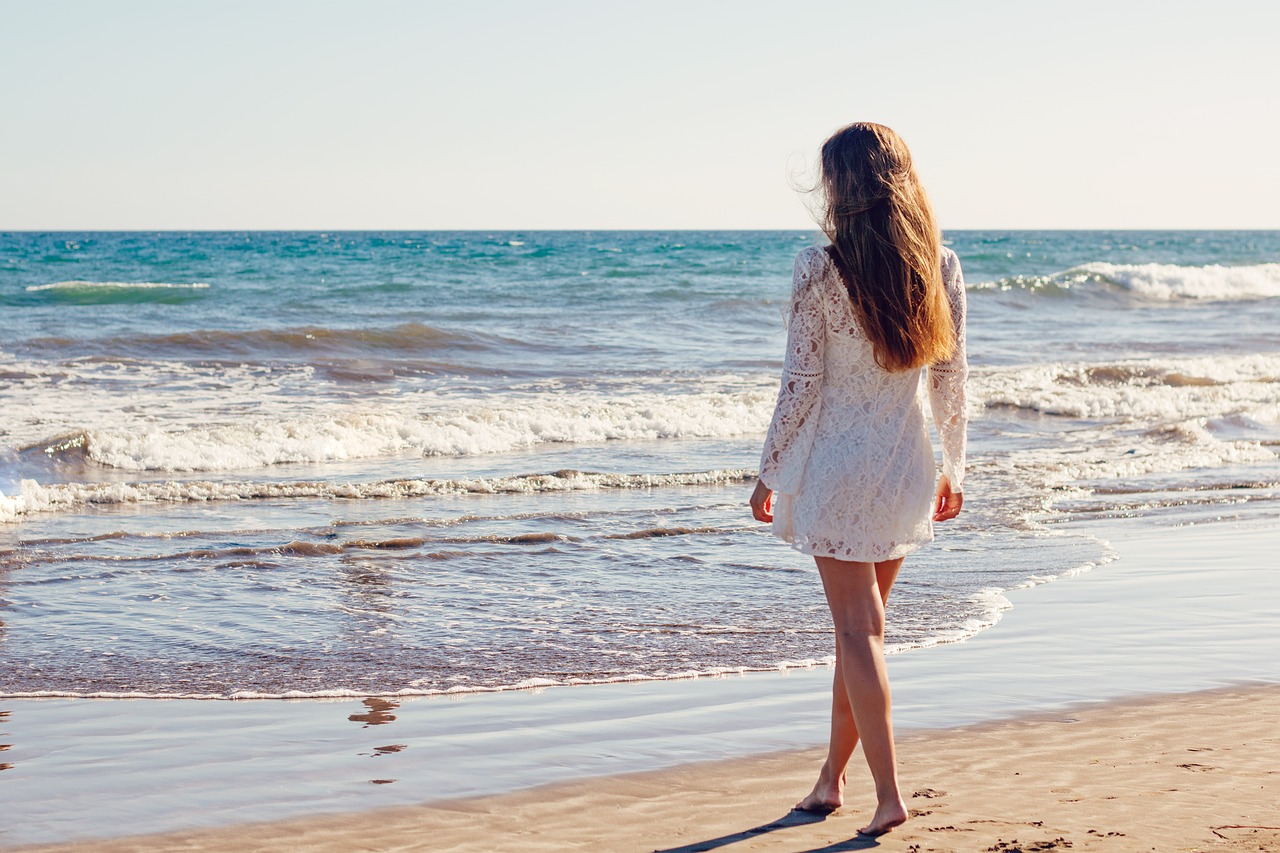 Beaches: Shouldn't really be a surprise.
Even though physical appearance is not the primary factor of attraction for women, at a beach where everyone is showing off their bodies, it becomes the number one attraction hook on the beach, triumphing over the vast majority of other men's assets. A little excercise can do wonders to improve chances here.
How to approach: Basically anything goes. From "accidentally" kicking a ball over to their territory to just casually walking up to them while queuing at a counter.
Once the conversation is on, why not challenge them to a game of volleyball, badminton or frisbee? It's all great fun and makes way for playful teasing which is a great way to build attraction. People aren't usually too stressed on the beach, so just go for it. But no offers to apply sun-lotion. That's just revolting and incredibly childish. Unless you know what you are doing, save this one for a girlfriend.
In this day and age, most people get to fly somewhere at least every year. Some get to do it a lot, some not so much, but if you happen to be on your own – or just with a not-so-energetic company –  it is always bleak. Of course, flying will be exciting for the first couple of times, but after a while it becomes more of a drag, something nobody really enjoys.
Basically, it's just travel afterall, only with the added hassle. And most of the time it ruins a full day, even if you are just flying short-distance. You have to arrive 2 hours early, only to have to wait in line, and the boarding time on your ticket always is a lie.
Everyone has to kill time there somehow.
So what to do during these long hours before boarding starts?
A lot of people are going around trying to find the smoking area or drink in the ridiculously expensive bars. This includes women as well. So why not go and talk to some of them? A lot of them are bored out of their mind, on their own and with free time on their hands which makes airport bars a little different than the normal ones.
How to approach: In light of all that, it's easy to make up a silly question in order to start a conversation. Ask someone about a certain gate, boarding time etc. Think about it, you could even build international relationships which is always a nice perk if you have to travel a lot for work. Or if you're really lucky, she might even travel to the same destination so the date doesn't even have to stop when boarding the airplane.
See? All it takes is to walk around with open eyes. There are actually tons of opportunities to find somebody virtually anywhere we go so to suggest it's only possible in clubs is nothing but narrow-mindedness and an excuse.
One might argue, and it is true, that women normally don't expect to be approached during the daytime. In these everyday situations they are somewhat more likely to have their guards up much more than at a party.
But if one does it right and she realizes that what is going poses no threat to her, it can be a real piece of magic for them. And don't forget that going for what you want is the absolutele Alpha-male out there and that it is appreciated as such. It is worth mentioning over and over that women are emotional beings, and are all appreciative of events that strike them as pleasant surprises.
And naturally, there's a higher chance of chatting up on someone who's taken already, not really looking for a man or what may have you. But this is just the nature of the beast, and dating is as much a numbers-game as anything else, anyway. So try yourself, don't hold yourself back and again, do not limit your chances in finding someone truly amazing. Taking option to meet women during the daytime away from yourself is simply daft.